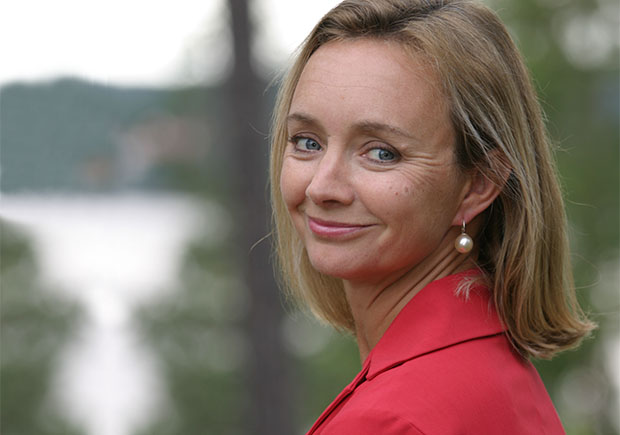 Secretary general – Anna Nilsson Vindefjärd, PhD, MBA
Dr Vindefjärd is the founder and Secretary General of Research!Sweden. She has a PhD in Medical Innovation and is an elected member of the Swedish government´s expert group on life science. Dr Vindefjärd is also an elected member of the Royal Swedish Academy of Engineering Sciences and is frequently engaged as a speaker and has written several articles in peer-reviewed journals, reports and book-chapters.
Dr Vindefjärd is a science policy expert who has performed research and policy-work within the field of medical innovation and organization since 1996. She has a proven record of building effective networks in complex systems, as well as influencing and providing strategic advice at the most senior levels within government, academia and business.
Previous positions include Science Attaché at the Swedish Embassy in Washington DC and Director of Research & Innovation Policy at the Swedish Association of the Pharmaceutical Industry. Dr Vindefjärd has working experience from industry, non-profit organizations, government agencies and academia. This cross-sectorial track-record has provided a good understanding of the different worlds of these sectors, their strategic issues and the challenges involved. This has translated into a well-developed ability to identify significant issues and communicate key messages.
Dr Vindefjärd is visionary and an entrepreneur, demonstrated by the creation and success of several initiatives:
She created the first course in "BioEntrepreneurship" in Sweden (1998), at the Karolinska Institutet, mixing students of business, medicine and engineering.
The BioEntrepreneurship course gave inspiration to a "Master of BioEntrepreneurship" at the Karolinska Institutet.
As the first doctoral student within the new field of Medical Innovation & Organization at the Karolinska Institutet 1998, she was simultaneously engaged in the actual creation of the interdisciplinary program.
While pursuing her post-doctoral studies at Stanford University, she also created and co-directed a BioEntrepreneurship course there.
Initiating, planning and executing numerous conferences and high-level roundtables at the most senior level.
The creation of Research!Sweden, which is an independent foundation with the aim of making medical research a higher political priority.
Dr Vindefjärd has a great interest in international relations and has spent many years studying and working outside of Sweden.