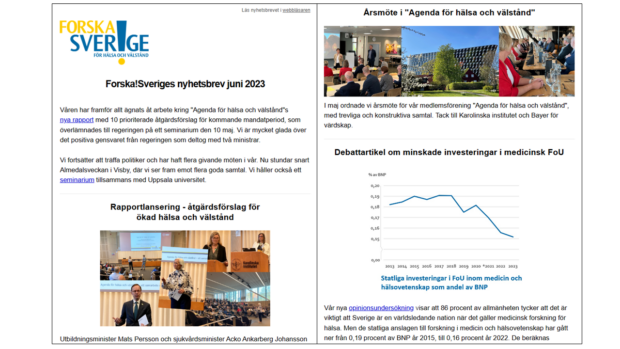 About us
Our vision is that medical research for health and life science companies continue to develop in, or move to, Sweden and that medical advances become of use to the population at a faster pace.
We want the government to forcefully and with high priority ensure the best possible environment for medical research and its transfer through development, into healthcare – for the benefit of patients.
Our mission is to inform and raise awareness of the importance of medical research – for health and prosperity. We act as an independent think-tank, contributing with factsheets, films, analyses, policy proposals and much more.
Research!Sweden has created a membership organization Agenda for Health and Prosperity where 35 organizations collaborate under our leadership. This is a neutral platform for constructive discussions between different actors from all parts of the life science system in Sweden and together we produce reports that provide up-to date analyses, policy proposals and action plans for political decision-makers.
Read more about our work here.