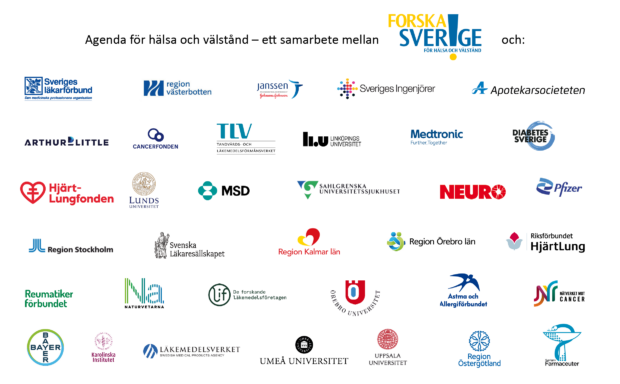 "Agenda for Health and Prosperity" – a membership organization
In 2015 Research!Sweden created the membership organization "Agenda for Health and Prosperity" where 35 organizations, representing academia, healthcare, industry, patient advocacy and other interest groups, collaborate to improve the conditions for medical research, business and healthcare. A main task is to provide evidence-based proposals for policy makers.
Our vision for life science year 2030
Sweden is a global key player within life science that attracts top talent
With large and long-term investments in education and research, there is room for curiosity and scientific excellence.
Sweden is a leader within healthcare, putting new knowledge and competence into practice
The interaction between academia, industry, healthcare and citizens creates an attractive environment for research and innovation. This, in turn, creates high quality healthcare.
The coordinated mission of healthcare to document relevant information contributes to a unique national platform for research and development. Researchers and companies are attracted to Sweden as a leading nation for clinical studies.
Sweden is a magnet for life science investments
With its innovative and dynamic environment, combined with attractive business conditions, Sweden is one of the most competitive life science nations in the world.
Read more about the association Agenda for Health and Prosperity and its members.
Read the one-pager about our report: Precision health – the way forward!